Albert-Mangelsdorff-Preis for Aki Takase!!
We are very thrilled to announce that the bi-annual Albert-Mangelsdorff-Preis 2021 will be awarded to Aki Takase in 2021 for her life achievement!!! The ceremony will happen during the Jazzfest Berlin on November 5 at Silent Green and per live stream. Congratulations!! Proud and honoured to work with his outstanding artist for nearly 20 years!!
And the winner is: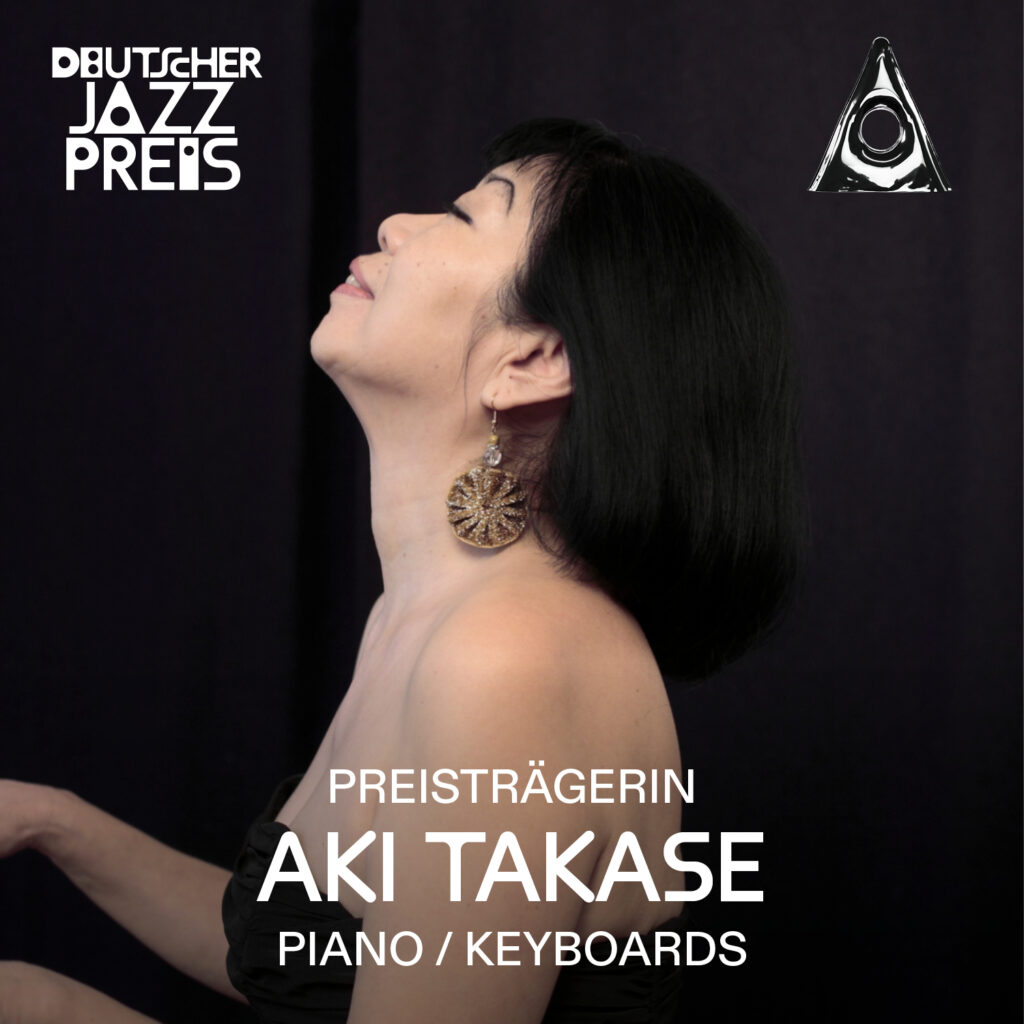 Warmest congratulations to Aki Takase!!!! Proud, honoured and happy to work with this extraordinary and creative artists for nearly 20 years!!
Aki Takase nominated for Deutscher Jazzpreis in category piano/ keyboards!!
We just received news that Aki Takase is nominated for the newly created Deutscher Jazzpreis! Congratulations for this great and creative artist!! The ceremony will take place online on June 3, 2021! Stay tuned!!
Music goes to gallery pt. 2
Hope…. by Chiharu Shiota, featuring exciting new project of Aki Takase and Mayumi Nakamura called Carmen Rhapsody, which is based on Bizets Carmen with new arrangements for piano and vocals. Give and ear and an eye to music between classical music, jazz and improvisation!
Music goes to gallery!
Maybe apart from all the difficult situations for the creative scene, it also gives new ideas for performances during Covid 19. Maybe it turns out to become a new way to intertwine different artistic expressions!? Here is Ulrike Haage & Christian Meyer in artistic cooperation with Chiharu Shiota!
DAS KONDENSAT BR recording for all those who are missing live concerts!
Springtours of Aki Takase, Pablo Ziegler, Pericopes+1, Gebhard Ullmann postphoned to later periods due to Covid-19 virus! Updates please check on the concerts site
Goodness, so much happened already in the first 3 months, hard to keep up!
New CD is out of CHAT NOIR, as is the new video and some first reviews!
All About Jazz
HAPPY NEW YEAR 2019!!
Time is running, so was last year full of great shows and tours at festivals and clubs and it seemed that work would keep going on without a break. Then, just some days before Christmas, I had the great pleasure to listen to the new project of Ulrike Haage and Christian Meyer and time stood still. I felt spare sounds and imagination relaxed my soul. I am delighted and honored to announce my new cooperation with this two wonderful and spirited musicians and human beings!! Welcome ULRIKE HAAGE/ CHRISTIAN MEYER at ASIANETWORK!!!
More good news to announce!
We recently celebrated the premiere of Da Capo at the Bregenzer Frühling, an unique mix of dance, jazz, classic, improvisation, hiphop, folklore imaginaire, crumb and modern dance. Aki Takase and Yui Kawaguchi invited Louis Sclavis, DJ Illvibe and Kofie DaVibe for this new and breathtaking stage performance!
Aki Takase is awarded the Jazzpreis Berlin 2018 and Johannes Enders is nominated for the JazzEcho 2018! My warmest congratulations!
January 2018 Grammy Award for Pablo Ziegler!!
I am proud and happy for Grammy winning Pablo Ziegler! Working with this extraordinary musician for more than 18 years and always knew and believed in his outstanding and creative work!! Congratulations from all my heart!!!
And another exciting new and fresh band is on the AsiaNetwork roster! Please welcome Pericopes+1 from Italy and USA, a young, inspired and high energy band to watch out for!! Please take some minutes to follow their unique approach to jazz!
Back from China and already some hot news from AsiaNetwork: Please welcome ANARCHIST REPUBLIC OF BZZZ on the roster!! Again an extremely interesting new band that brings some great music in between Alternative, Jazz, Hiphop, Rock, Noise. Go check it out!!
In case you are curious about whats happening at AsiaNetwork at present, please check www.jim-festival.com
You can also see at Goethe Institute China following link:
Vierteljahrespreis der Deutschen Schallplattenkritik für Aki Takase´s und David Murrays CHERRY SAKURA!!! Herzlichen Glückwunsch!!
http://schallplattenkritik.de/news
Upcoming CD of Pablo Ziegler & Christopher O´Riley at prestigious Steinway label in summer 2017!!
Voilà!! Marko Haavisto & Poutahaukat kommen im Mai auf Tour in unsere Breitengeraden! Und der Großmeister Aki Kaurismäki hat das neue Video zur Verfügung gestellt, welches aus dem Film "Die andere Seite der Hoffnung", Silberner Bär für die beste Regie bei der Berlinale, erhalten hat!!
Hier sind die Tourtermine:
10. May 2017 Leipzig, NaTo
11. May 2017 Potsdam, Waschhaus
12. May 2017 Essen, Zeche Carl
13. May 2017 Innsbruck (A), Treibhaus
17. May 2017 Freiburg, Jazzhaus
18. May 2017 Thun, Cafe Mokka
20. May 2017 Karlsruhe, Tollhaus
21. May 2017 Stuttgart, Laboratorium
Und hier das Video Kaipuuni Tango aus  "Die andere Seite der Hoffnung"!
Marko Haavisto & Poutahaukat, bekannt von den Aki Kaurismäki Filmen "Der Mann ohne Vergangenheit" oder "Dogs have no hell" werden im April/ Mai, sowie im Sommer 2017 ihre finnische Heimat für Tourtermine im deutschsprachigen Raum verlassen. Die letzte CD wurde im Jahr 2015 veröffentlicht und derzeit spielt sich die Band in Finnland die Finger wund. Es wird also Zeit, dies in unseren Breitengeraden zu tun.
Here is the new video from Pablo Ziegler, Quique Sinesi and Walter Castro filmed at A-Trane this year. Thanks to Sedal from A-Trane and Fred Plassmann from Offscreen for help and work!!!
And after a longer break, legendary Naftule´s Dream are back on track! With new CD BLOOD. Tour planned for 2017
Värttinä neue CD erhält internationales Aufsehen!  Mit den neuen Stücken geht die Band zurück zu ihren Wurzeln in das kleine Dorf Viena in Karelien. Gelebte und gesungene Geschichte, wie es schöner nicht sein kann! Ein beeindruckendes Album der Band, die in diesem Jahr ihr 33. Bandjubiläum feiert!!
Great News about Aki Takase´s and Ayumi Paul´s CD Hotel Zauberberg as one of the best CDs in 2015.
Merry Christmas and a very happy New Year 2016!!!
Aki Takase und David Murray werden im Sommer 2016, Ende Oktober/ Anfang November 2016 sowie im Februar 2017 auf Tournee gehen! Die Tourneen werden in Zusammenarbeit mit 3D Family geplant.
For those who have seen the amazing showcase of Almut Kühne and Gebhard Ullmann at the German Jazz Expo in Bremen and are willing to refresh their impressions, here you go!
HAPPY BIRTHDAY TO ASIANETWORK!!! April 15, 1997 AsiaNetwork officially started work as a booking agency. Still going on after all these years with finest music!!! I guess in two years I have to think about a special birthday