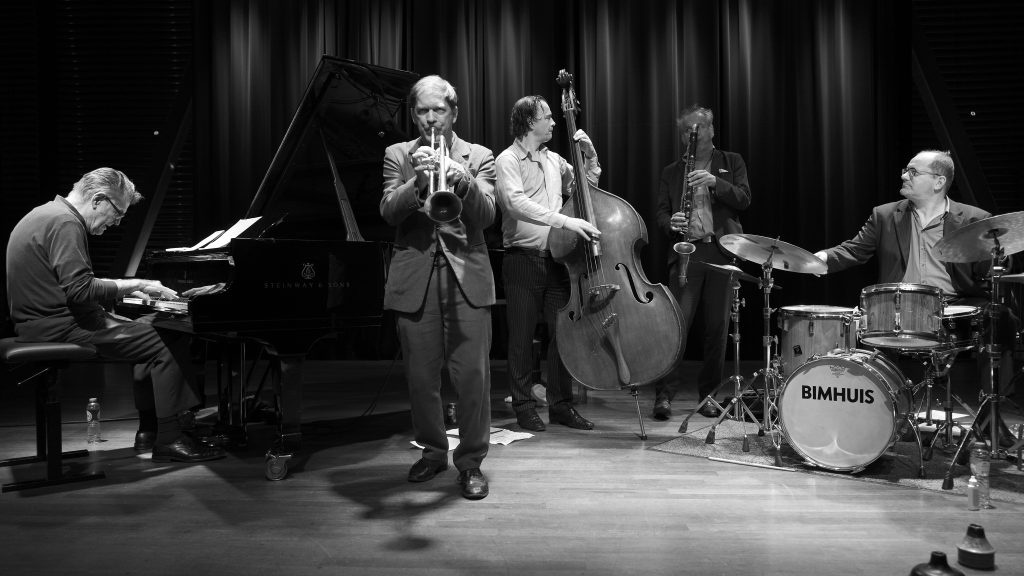 Alexander v. Schlippenbach-p
Axel Dörner-tp
Rudi Mahall-bcl
Jan Roder -b
Michael Griener -dr
Monk's Erben
Kaum ein Pianist, kaum eine Pianistin der europäischen Improvisationsmusik ohne eine enge Beziehung zu Monk. Auch für den Berliner Pianisten und Komponisten Alexander von Schlippenbach besitzt Monk zentrale Bedeutung. Schon als junger Student an der Kölner Musikhochschule, Ende der fünfziger Jahre, hat er Monk-Stücke gelernt. Später wusste er solche für sein "Globe Unity Orchestra" zu arrangieren, und er hat Monk-Themen einfliessen lassen – in seine Solokonzerte ebenso wie in das Spielen mit diversen Kleinformationen.
Allein die Stücke aufzufinden, war für Schlippenbach und seine Kollegen eine mühsame Angelegenheit. Als die Arbeit an dem Projekt begann, gab es noch nicht das mittlerweile in Umlauf gebrachte und auch von Monk-Kennern authorisierte "Fake Book". Von Monks Kompositionen kursieren unterschiedliche Transkriptionen, die oft in Gestalt abgegriffener Fotokopien unter Musiker und Musikerinnen weitergereicht werden. Eine Sammlung bzw. ein Reprint von Autographen scheint nicht zu existieren. "Er gab seine Noten nicht gern aus der Hand", sinniert Jeff Dyer über Monks Mentalität, "mochte es nicht, wenn andere Leute sie sahen, er gab nichts gern aus der Hand. Und wenn er rausging, wickelte er sich gerne in einen Mantel ein – Winter war seine Jahreszeit -, und er zog es vor, nicht allzu weit abzuschweifen. Im Studio bewahrte er seine Kompositionen in einem kleinen Buch auf, das er nur widerwillig anderen Leuten zeigte, stopfte es immer sofort wieder in seine Manteltasche zurück, wenn er fertig war, sperrte es weg."
Vielleicht hat ja Nelly gelegentlich eine von Monks Kompositionen zum Feueranzünden benutzt, so, wie einst Anna Magdalena Bach möglicherweise mit dem Notenblatt einer Fuge Sauerkraut einwickelte. Monk hat nicht für die Nachwelt komponiert. Doch seine Klänge sind, so hat er der Sopransaxophonist Steve Lacy, der sich einen Grossteil seines Lebens mit den Kompositionen Monks beschäftigte, einmal formuliert, "heute angekommen in der Erdumlaufbahn der Sounds". Sie begegnen uns sogar in Werbejingles, und "'Round Midnight" zählt zu den meistgespielten Jazzthemen. Doch die musikalische Signatur, der Eigen-Sinn von Monk erschliesst sich erst in der Vielschichtigkeit und Opulenz eines "Gesamtwerks" mit vielen, oft unbekannten kleinen Juwelen. "Monk's Casino" lässt sie aufleuchten. Bert Noglik
english
With this project, the Berlin-based band "Die Enttäuschung" works together with famous pianist Alex von Schlippenbach on the complete Monk´s programme. It took about 10 years of research on scales and recordings to bring all Monk songs back to life with this tour de force. The CD Box was a big surprize to audience and media, as they managed to put all compositions into this fundamental work.
The life show is an experience, that you will not forget, once you have seen them perform jazz back to the roots without amplification and complicated sound system. Just the music and the band, that´s it.
One of Europe's premier free jazz bandleaders, pianist Alexander von Schlippenbach´s music   mixes free and contemporary classical elements,  with his slashing solos often the link between the two in his compositions.   Schlippenbach formed The Globe Unity Orchestra in 1966 to perform the piece"Globe Unity,   which had been commissioned by the Berliner Jazztage.
He remained involved with the orchestra into the '80s. Schlippenbach began taking lessons at   eight, and studied at the Staatliche Hochschule for Musik in Cologne with composers Bernd Alois Zimmermann and Rudolf Petzold.   He played with Gunther Hampel in 1963, and was in Manfred Schoof's quintet from 1964 to 1967. Schlippenbach began heading various bands after 1967, among them 1970 trio with Evan Parker and Paul Lovens and a duo with Sven-Ake Johansson which they co-formed in 1976. Schlippenbach has also given many solos performances. In the late '80s, he formed the Berlin Contemporary Jazz Orchestra,which has featured a number of esteemed European avant-garde jazz musicians including Evan Parker, Paul Lovens, KennyWheeler, Misha Mengelberg and Aki Takase.   During the 90`s Duo work with Tony Oxley, Sam Rivers and Aki Takase.
1999 started performance and radiorecording of Thelonius Monks complete works,   (all the compositions) with Rudi Mahall and his group. Awards: "Kunstpreis der Stadt Berlin "(1976)," Schallplattenpreise der UDJ"(1980/1981),   "Albert Mangelsdorff Preis" (1994) The German Record Critics Award : "Monks Casino" 2005/3
The "SWR-Jazz Award" 2007